When you visit our dental office near Winston-Salem, we want you to feel like you're in the comfort of your own home, not like you're in a cold, clinical doctor's office. We've designed our practice with your comfort in mind to help you stay relaxed and at ease in our care. We also respect your time and make every effort to help you fit quality dental care into your family's busy schedule.
Patient Amenities
In an effort to help you feel comfortable while you're with us, we've stocked our office with a number of modern patient amenities. From the beverages in the reception area to the TVs in our private treatment rooms, we know you'll enjoy your time with us.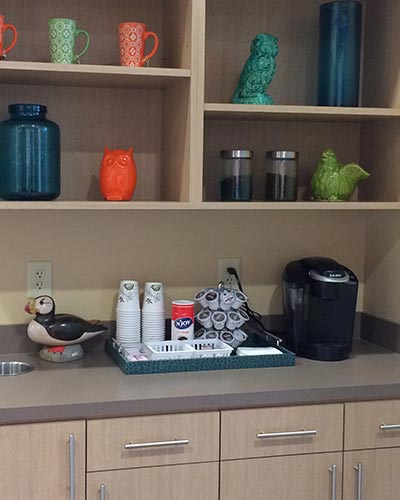 Complimentary Refreshments in Lobby
Grab your morning cup of coffee or quench your thirst with bottled water while you wait.
WiFi Internet Access
Don't miss out on that work email you've been waiting for, or stay up-to-speed with family and friends.
Blankets & Pillows
Comfy pillows and warm blankets help you relax during any procedure.
TVs in Treatment Rooms
Each of our seven private treatment rooms has a flatscreen TV, so you can catch up on your favorite shows or watch a movie while we work.
Let us show you how comfortable a dental office can be. Call today to schedule an appointment.
Schedule an Appointment
Sedation Dentistry
Dental anxiety is a real thing that many of our patients suffer from. We understand that people even put off the care they need because of their fear of the dentist. At Dad & Doc Dental, we don't want you to skip out on the dental care you need because your nerves have gotten the best of you. At our dental office, we offer nitrous oxide, or laughing gas, to help anxious patients relax during their visit.
Nitrous oxide is a sweet smelling gas that is inhaled through a mask over the nose and mouth.
The gas creates a heightened sense of relaxation in patients.
Laughing gas is a safe sedation option for most patients.
The effects are easily reversed by inhaling pure oxygen for a few minutes, meaning you can safely drive yourself home after your appointment.
Convenient Scheduling
We understand that your family is busy. From school and work to extracurricular activities and family commitments, your schedule is packed. But that doesn't mean that quality oral health care has to be put on the backburner. Your Wallburg and Winston-Salem area dentist is committed to offering convenient scheduling options to help you keep your smile happy and healthy.
You shouldn't have to drive back and forth to our office for multiple appointments throughout the day or week. To help save you time, we offer family block appointments, where members of your family can be seen back-to-back or at the same time. We also make every effort, whenever possible, to begin treatment the same day a diagnosis is made.
Emergencies happen, and rarely at convenient times. Tooth pain can be excruciating, and we don't think you should have to suffer, so we set aside time every day in our schedule for dental emergencies. If you experience dental trauma or are having pain in your teeth or mouth, call our office and we will do all we can to see you the same day.
Contact our team today to schedule your convenient appointment at our Winston-Salem dental office.
Schedule an Appointment