A beautiful smile can give you the confidence you need to ace an interview, to impress a first date, or to just flash a big smile. Dr. Greg Swartz offers cosmetic treatments to put life back into your smile and improve your interactions.
Veneers
Do unsightly gaps make you want to cover your mouth and hide your smile? What about chipped, crowded, or discolored teeth? Porcelain veneers are used by cosmetic dentists to correct these issues and give you a complete smile makeover. The thin layer of porcelain is colored to match your other natural teeth, so you can be confident in showing off your smile.
To ensure you get the smile of your dreams, Dr. Swartz works closely with you to determine your smile goals. From that, he designs veneers that will help you achieve the smile you desire. The veneers are then custom-made out of durable porcelain and bonded to your teeth. It is important to know that, prior to bonding, some enamel is removed for your teeth to get a proper fit, making this procedure irreversible. Be sure you're ready for a permanent improvement in the look and feel of your smile!
Professional Whitening
Whitening your smile is a great way to achieve a more youthful, vibrant appearance. A whiter smile can also boost your self-esteem and help you feel more comfortable in social situations. To help you get a brighter, more brilliant smile, our dental office offers two convenient ways to whiten!
Come in for a one-hour appointment and leave with a smile that is up to eight shades brighter. Our in-office whitening treatment is fast, easy, and effective.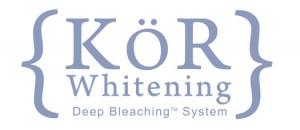 If you're looking for a more drastic change to the look of your smile, consider the KöR® Whitening Deep Bleaching™ System. With KöR, we take molds of your teeth to create custom whitening trays that form to your teeth for the ultimate comfort. We'll send you home with your new trays and the ultra-powerful KöR whitening gel. Use the whitening system every night for two weeks for dramatic results. After your two weeks, visit us again for your final consultation. The KöR system will give you a whiter, more brilliant smile than you ever thought possible in a way that is easy and safe. The whitening gel also produces little to no sensitivity, so it's comfortable, too!
Call Dad & Doc Dental today to schedule an appointment with one of our Winston-Salem dentists.
Schedule an Appointment