Are you missing a tooth or multiple teeth? Do you wear uncomfortable or loose dentures? If you're ready to give your smile a second chance, Dr. Greg Swartz and his Wallburg dental team at Dad & Doc Dental can give you back a smile you're proud to show off thanks to dental implants and dentures.
Dental Implants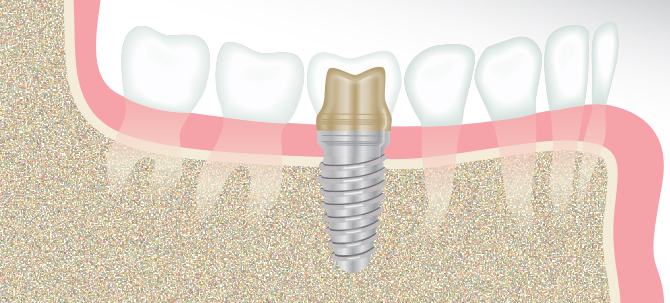 If you need to replace one or more missing teeth, Dr. Swartz can help. He is trained in all phases of implant dentistry, so most of your implant needs can be taken care of right here in the comfort of our dental office.
Dental implants are small titanium posts that are placed into the jawbone in place of missing teeth. The biocompatible material of the posts allows them to fuse with the bone and create a solid anchor for a restoration, typically a crown or bridge.
Benefits of dental implants include:
Dental implants are the preferred method of replacing missing teeth, both by dentists and patients.
Implants look and feel like natural teeth. You'll be back to talking, eating, and smiling with confidence again in no time!
Restorations anchored by dental implants can improve the function and appearance of your lips, jaw, and face.
Healthy dental implants can last for years!
If you think your smile could benefit from dental implants, call our office today to schedule a complimentary consultation.
Schedule an Appointment
Dentures
When natural teeth fail, dentures are a great way to restore your mouth's function and get you back to smiling. Once uncomfortable and ill-fitting, the fabrication of dentures today involves state-of-the-art materials and custom fitting to ensure your new dentures look and feel great and function properly.
If you and Dr. Swartz determine that dentures are the restorative option for you, our team will see you three to four times to design and fit your dentures. Our team will work closely with you to ensure that your new dentures fit comfortably, don't slip, and don't irritate your gums. We want you to enjoy your new smile, so we work hard to provide you with the best-fitting dentures possible.
Once your dentures have been fitted, Winston-Salem dentist Dr. Swartz will continue to work with you to get used to your new teeth, and will continue to make minor adjustments until the fit is perfect.