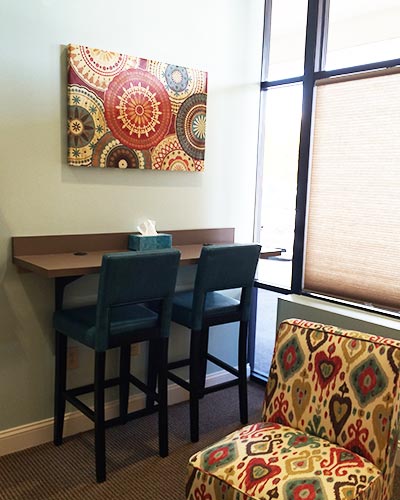 We understand that it can be difficult to keep the entire family in good dental health. We believe in making dental visits to our dental office fast, easy, and as painless as possible. That's why we've designed a practice with you as our top priority. When you come to our office for your first visit, we go out of our way to help you feel comfortable, to ensure your visit is efficient and streamlined, and to keep your oral health care affordable.
Comfortable, Convenient Office
Our patients — you — are our top priority at Dad & Doc Dental. Our goal is for you to feel relaxed and at home while you're with us, from the moment you check in until the moment you leave with a beautiful smile on your face. To help us achieve this goal, we've stocked our waiting rooms and private exam rooms with a number of comfortable amenities like WiFi throughout the office. We also offer convenient scheduling options to help you maximize your family's time, as well as relaxing sedation to help ease your dental anxiety.
New Patient Visit
We respect your schedule and understand that everyone's lives are busy. In an effort to make the most out of the time you spend with us, we've developed a streamlined process for new patient visits.
Prior to your appointment, we invite you to download, print, and fill out our new patient forms. Bring these with you to your first visit for a quick and easy check-in process.
We make every effort to run on time, so we ask that you do the same. Once you arrive, you'll be escorted back to a private treatment room. At your first visit, we will complete your new patient exam, as well as a cleaning, so you don't have to come back for a second appointment. We dedicate extra time to new patient visits to ensure that our Winston-Salem area dental team has the time to get to know you, your dental health history, and your goals for your smile. We encourage you to bring up any areas of concern regarding your oral health at this time, so our team can begin to develop a treatment plan that is right for you.